Case Histories
Companies as similar — and as different — as yours are using CADCode software every day to improve the quality of their products, increase their production volume, eliminate front office to production floor headaches, and enhance their bottom line. Read how others are using CADCode Systems' software to grow their businesses.
For a quick take on what CADCode can do for you, consider this short piece from Chad at Northway Industries:
We [Northway Industries] are a contract manufacturer, so we constantly have new customers. Some stay around for a while, some don't. We need to be able to get orders on the production floor as fast and accurately as we can. I have been using CADCode for a couple of years now. We have 13 CNC machines, 2 panel saws, and 4 horizontal machines. 5 different brands of CNC machines, and 2 different panel saws. CADCode talks to them all.
We do work with one company that makes us look small. They will send us an order for an average of 2000 work surfaces at a time, with a 2 week delivered time. I receive the order, and process it in around 2 hours. Material requirements, press order, saw code, CNC code, reports, labels, and I order the material. We couldn't do it without CADCode. This is just one example.
I have created Excel worksheets for repeat customers to order their product. They then send them by email to me, I open the sheet, type our order number in a field, and save as a CSV file. I then read the CSV file, and a layered DXF file, at the same time into CADCode. Game over. I have processed the order in minutes!
I can read WoodWop files just like a DXF file also. There are many file formats that CADCode can read.
I have never had any problems with support. You wouldn't believe the updates that were put in for us even if I remembered! Ned has been very good to Northway.
I could go on and on, but its been a long day, and I am ready to go home. Any questions, feel free to ask.
It's clear that automation is having a significant impact on the wood product manufacturing industry, enabling companies to produce more work, of better quality, than ever before. Take a look at this video from CADCode user Stevens Industries in Teutopolis Illinois for an overview of how they're employing automation, CNC machinery and CADCode Systems software to serve their customers.
For more case histories, read below. If you have a success story using our software that you'd like us to feature, drop us a note and we'll contact you for the details.
Artline Cabinets Finding the right software to control manufacturing
Brannen Millwork Making doors, windows and shutters from a spreadsheet
Corona Cabinets Doubling output with the same number of employees
VRD Joinery — Part 1 You can't fit square cabinets into a round building
VRD Joinery — Part 2 Growing a business with a commitment to automation
---
VRD

Detailed Joinery — Part 1 —

You Can't Fit Square Cabinets Into a Round Building

The Challenge of a Simple Shape
This circular apartment building in Sydney Australia has one apartment on each floor shaped like a doughnut. The elevators, stairs and service equipment are in the center of the building and the living area is positioned around the core.
The job started with a round empty shell, with no obvious starting point. Even the builder saw the difficulties of getting the walls in the right place until Roy Borello, co-owner of VRD Detailed Joinery, offered to use the architect's AutoCAD plan to develop a series of templates to cover the apartment floor to show the exact position of the walls, cabinets and other built-ins.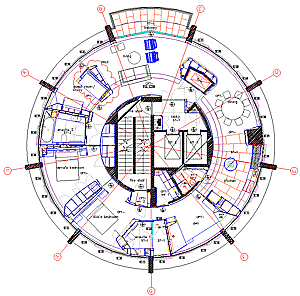 Although each apartment occupies a whole level, every spare millimeter was used in the quest for storage without compromising living areas. This produced some very unusually shaped units hidden in the many nooks and crannies.

The architect's specifications included some spectacular designs using curves, angles, and rounded corners. Everything to be fixed to the outside wall was curved with cutouts to fit the features of the building's internal structure. The designs included miter and dovetail joints, ribs and curved panels.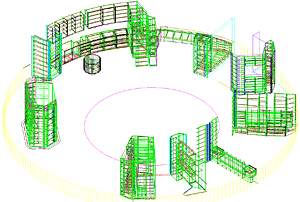 Software Provides the Solution
Using CADCode, Roy imported the files from AutoCAD and cut the template sheets from 3mm MDF on his CNC router. The templates were 100% accurate and the job was done in no time. With 100% accurate templates, the builder could easily identify where the walls were to be positioned, and VRD could start developing the detailed cabinetry.
Roy Borello told us "The combination of using AutoCAD and CADCode software was perfect. It meant that I could design any shaped cabinet or any single part that was requested with no restrictions. Once the drawing was complete it was a simple matter of saving the file to CADCode where the data from AutoCAD is processed. CADCode then provides the tool path information, G-code, and labels for each part. The process is fast, easy and the accuracy is 100%."
With accurate data and an easy way to move from design to manufacturing, even the most complex projects can be easily, efficiently, and profitably accomplished. This project is a great example of how you can make anything with full automation if you use the right software solution.
VRD

Detailed Joinery — Part 2 —

Growing a Business With a Commitment to Automation

Moving to

CNC
VRD Detailed Joinery started out making hotel furniture but after 3 years Roy and Dominic Borello, owners and founders, decided that business had no real future. Roy made contact with a number of architects to attract more profitable work.
Roy Borello and his brother Dominic have since transformed the business into a specialist custom joinery operation, using state-of-the-art CNC machinery and software.
It wasn't long before they had as much work – curved counters, reception desks, detailed cabinetry and the like – as they could handle. However, this work was done the hard way. In the beginning the shapes were mapped out on templates and everything was made by hand.

Roy started toward automation by purchasing a computer and designing in a CAD program, sending cutlists and drawings to the shop floor, where they were checked and corrected before cutting could start. The whole process was slow and time consuming, and the shortage of qualified tradesmen didn't help.
The

VRD

Operation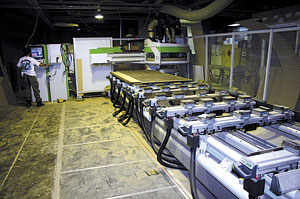 Roy explained,"I knew what had to be done. I spent over two months investigating new machinery and software. In the end I was still confused about machinery, but very worried about the capabilities of the software I had seen. I spoke to so many people who had bought software, tried it, but couldn't make it work and later had to spend thousands more to get it right. Not only that, how would I choose between nested and single-part processing?"

It was about this time that Brian Swan of Biesse dropped in to call. "Brian brought me up to date with new machines on the market and what they could do", said Roy.

"The decision to buy a Biesse convertible flat table router with twin beds, nested on one bed and processing single parts on the other, settled the dilemma over which manufacturing method to use. I had all of the benefits of nested production but when I needed the vital single part features such as horizontal drilling I could do that too."
Committing to the Software
"The software was the more complicated decision. I needed a system that would provide real automation for this machine. I needed the best of nesting and the best for single part production. But most of all I needed to draw, in a CAD format, the products I required and have them sent to the machine easily and 100% right every time.
VRD uses AutoCAD and CADCode's ACAM to dynamically link the two programs and export via the DWG format so that whole assemblies of drawings can be saved to CADCode, optimized and sent to the machines at the push of a button.

"Our complicated kitchens used to take two guys six weeks to complete – one week to cut, four weeks to assemble and one week to install. Now we take 2 days to draw and just over two weeks to finish, including installation. Our quality is better because there is no human error, all panels are square, everything lines up, drawer runners are dead straight and everything is perfect."

Roy pointed out, "With our new set up there is nothing we cannot do."
---
Corona Cabinets —

Doubling Output With the Same Number of Employees
Even Hard Work Has Its Limits

Tim MacDonald, managing director of Corona Cabinets, gets that you can't cross a chasm with lots of small steps. After doing it the hard way for years, he was determined to make new computer-driven technology work for him.

A qualified cabinet maker, Tim spent many years working for other people and doing mostly commercial work. Then in 2002 came the opportunity he had always dreamed of — opening his own cabinet manufacturing business.
The next two and a half years were very successful. "We got lots of business," says Tim, "and we worked ourselves stupid trying to keep up. Our team was fantastic and everyone put in 110%.

Our table saws were running 12 hours a day, we worked every weekend but we just couldn't keep up and had to turn lots of work away, which really hurt. In an attempt to improve our productivity, we developed a cutting list generator in Excel, which we keyed into our saw optimizer to get a printed optimization. This helped a little and speeded up the cutting list but it was inconsistent and due to the human factor we still made errors. If a part was missing someone would spend up to 20 minutes rectifying the problem. On top of this we had no drilling information. We experienced frustrating inaccuracies with adjustable shelf holes and we were writing on each part for identification purposes."
CNC

Technology – It's Hardware AND Software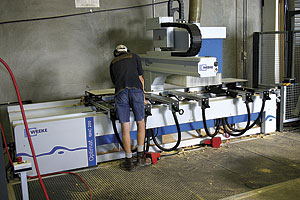 He purchased a new beam saw and CNC point-to-point machining center. "My original plan was to re-work my spreadsheets and upgrade the optimizer," said Tim, "the problem was that I would still have very limited drilling capabilities. Parametric programs on the point-to-point could not handle the high proportion of custom work that we do. I needed automation software that had real flexibility."

"During my search for machinery I visited another shop with a machinery rep. While I was looking at the machines the owner kept commenting on the effectiveness of the software. I didn't think much of it at the time but later on I called him up and asked for more information. That's when I was introduced to the CADCode software.
After just buying the machinery, it was a tough call to suddenly add the cost of new software. I had to be really sure that this was the right decision."
Twice the Through-put, Same Number of Employees
Over the next few months Tim more than doubled the output with the same number of people and has reduced overtime to less than half. "Control is the word," said Tim. "We have taken back control of the manufacturing. The parts are cut on the saw and machined on the point-to-point and we do not need to touch the PTP controller. That's real automation."

"You do not need extensive training to process jobs. The speed of processing a job is amazing and every part is correct, every time. One thing that stands out is how automation has added a touch of professionalism to how we look. Our customers see us getting it right every time, and they like it. Now I'm planning future improvements. Firstly I will link AutoCAD to CADCode so our drawings can be sent to machine with optimization, machining data, tool paths, and G-code all done in minutes, automatically. After that, well who knows?"
---
Artline

Kitchens —

Finding the Right Software to Control Manufacturing
Moving Forward with Total Control

Speaking from a new plant in western Sydney, Mike Kluver, managing director of Artline Kitchens, reflected on the finely tuned operation of moving his company to new, 60,000 square feet premises. "Installing software is never easy, especially when done at the same time as buying new machines, turning manufacturing on its head, designing new products and moving premises. Thanks to the enthusiastic performance of everyone on the Artline team, we were able to accomplish the move with a minimum of disruption," said Mike, "Not a bad effort when you consider we installed new CNC software, 2 point-to-points, 2 new beam saws, 1 new flatbed router and much, much more — and we only lost 3 days of production."

Artline started business 21 years ago as a wholesale manufacturer of quality, custom-built kitchens. "Our customer base," said Mike "has always been high-end kitchen sales companies who choose to focus on the things they do best while leaving the job of manufacturing to us. Our policy of supplying a high-quality customized product, a pricing structure that more than competes with the cost of our clients producing the products themselves, and guaranteed delivery schedules has been the foundation that has seen the company survive and grow since day one."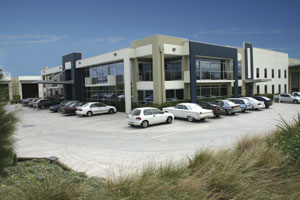 "Not having to deal with the day-to-day problems of sales and marketing, now done by our client network, means we can concentrate on the things we do best: the production of quality, custom-made cabinets, doors and countertops."
"Our course is set toward technology. Our design and production systems are the best money can buy and are continually updated. Our challenge is to react to the demands of our clients and manufacture everything they need. This focus on customized products has made us re-think the automation of our factory. We need to produce these specialty products as quickly and easily as standard products."
Finding the Right Software
Eric Vanderlem is Artline's IT manager. "I seem to have been on a quest to find the ultimate software ever since our first computer (a DOS-based Commodore PC). We bought a very early cutting list program, which turned out to be a real disaster. Machining data input was done at the machine by the operator, not the best way to improve productivity. More recently we purchased a system which had a drawing package on the front end and although we persisted with this, due to our demands for customization, we just couldn't get it working the way we needed to."

"Standing still is not easy when you work with Mike Kluver. Before long he and I were on a plane to visit another shop using CADCode Systems to make cabinets, doors and countertops, on an assortment of machines. They were, in fact, doing all the things we wanted to do."
Customization at Competitive Prices
"Things moved pretty fast after that. It [CADCode with ACAM (using AutoCAD)] is fast, there are no limitations, and once a product is set up, the accuracy is 100% every time," Eric said. "Our clients love being able to offer customized kitchens at competitive prices. Over the next few months we developed our library of over 250 products, all fully parametric and extremely customizable. Today we can make anything, easily. There are absolutely no boundaries with this software — if you can think of it, you can make it. No other program can do this. We have more accuracy than ever before and all parts of the manufacturing process are faster and smoother."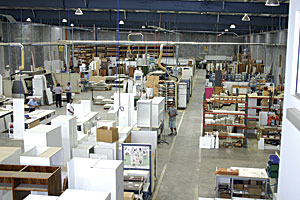 "Our new Biesse flatbed router was delivered to the new factory and installed. When we moved in we simply hooked up the computers and started sending data to the machine. It started producing accurate parts immediately and was probably the most painless part of the whole moving process."
---
Managing Growth —

Making doors, windows and shutters from a spreadsheet
Near Statesboro, GA, Brannen Millwork Company zeros in on high-end entry doors designed for Hurricane Alley — and it's paying off.
By Anthony Noel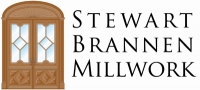 Brannen Millwork, Register, GA
Year Founded:1989
Employees: 50
Shop Size: 43,000 sq. ft.
FYI: Through the years, the company has honed its focus down to high-end exterior doors, emphasizing durability for its customers in hurricane-prone areas.
Register, GA, is a small town — there's no disputing that. For the casual visitor, it can be hard to imagine the rural landscape as an industrial center. Well, guess what? "Right through the woods over there," says Lewis Stewart, co-founder of Brannen Millwork, "there is a Briggs and Stratton plant that hired more than 700 people. There's the Viracon glass place over there; I think they have at least 250."
Indeed, passers-through may scarcely realize that burgeoning Statesboro sits just 8 miles north of tiny Register. And in Statesboro, one will find the reason for the area's strong economy and low unemployment. In three words, Georgia Southern University. In one, football. "We got a football team, hired a guy named Erik Russell," Stewart says. "He got us the national championships, and he was the greatest thing that ever happened to Statesboro, really."
Brannen Millwork isn't a Briggs and Stratton by any means – at least not yet. But it has turned into an engine of growth unto itself and, with its 50 employees, the company is setting new standards in the wood entry-door market. Brannen's design pressure (DP) and impact-rated units have become a prime choice for homes in hurricane-prone locales throughout the Southeast.
Started in 1989 by Lewis Stewart and Edmund Brannen, Brannen Millwork began as so many woodworking businesses do, making custom cabinets, mantles and millwork for local customers, from concept through installation. The first shop was a 1,400-square-foot converted grocery store. A year later, the firm built a 6,000-square-foot steel building and moved in. "We thought we had all the room we'd ever need," chuckles Stewart, who manages the production side of the operation. "Little did we know." Fifteen years and seven additions later, the building's footprint now covers 43,000 feet, and the company's products are sold from the Carolinas to Florida. That growth has required a steady, deliberate, and sometimes painful narrowing of the company's focus, according to Brannen, the company's co-owner and sales manager.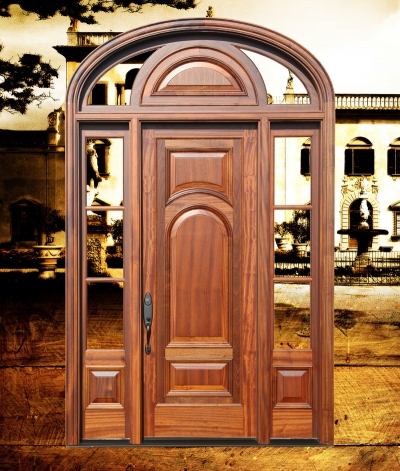 "We are actively trying to spread our customer base over a larger area and narrow it down to what we do [best]," he says. "Ultimately, we want to be a high-end door supplier that can do really nice work on a timely basis. In order to accomplish this, we will have to limit the unlimited options that our long-time customers have come to expect, and that can be hard," Brannen admits, adding that code restrictions already have played a role in limiting certain choices. "I talk to most of our customers nearly on a daily basis, if not weekly," he notes. "So it's hard for me, because when you're socially connected and your buddy calls and asks, 'Can you do something?' it's a little more difficult to say, 'No, I can't do it.'"
Making the switch
The company's move from do-it-all millwork house to door specialist gathered steam only recently. "For the first 10 years of our life in business, we never really tried to sell much. Our customers grew, and we grew with them. We always enjoyed almost more business than we could do," Brannen says. "About three years ago, the stock market had issues, and so we said 'Well, we need to get all our eggs out of one basket,'" he explains. "Ninety percent of our business was the South Carolina coast. And so we said, 'Let's spread it around a little bit.' We knew that we wanted to get out of the business of doing everything for everybody."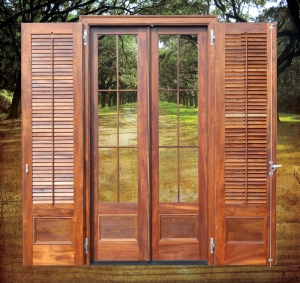 The lavish, multimillion-dollar homes in seaside communities on Kiawah and Hilton Head islands are still primary destinations for the company's products. But ... "We're getting a lot of new Florida customers now," Stewart says. The storms that ravaged The Sunshine State last year are a big reason for that. The production staff works four nine-hour days, Monday through Thursday, with a half day on Fridays. Overtime is usually plentiful.
After ripping, rough sizing and/or glue-up, raw material is sent to its next workstation — one of the company's four Weinig moulders or maybe the new Italpresse 5-foot by 12-foot heated platen press. When CWB stopped by in mid-November, the company had already invested $750,000 in new machines in 2004. In addition to the press, an SCMI M3 gang rip saw and two Routech Record CNC routers were added. A model R240 went online last April, and the firm's new R132 was being installed during our visit. (See the sidebar, "'Spreadsheet-Friendly' Software.")
"We use the R240 for machining door parts, sizing doors and jamb parts," Stewart says. "We used it initially to machine door parts and then saw the added capabilities. The R132 will be dedicated to door sizing and frame parts, along with impact-tested doors. This will allow more time for door part machining on the R240. Once we got the first router, there wasn't enough time in the day to do everything we wanted to do on it." A vast arsenal of moulders allows Brannen Millwork to offer 1,500 moulding profiles. The company also manufactures interior doors. But overwhelmingly and increasingly, the company's primary products are entry-door units.
'Spreadsheet-Friendly' Software
"We looked at routers for eight years," says Lewis Stewart, co-founder of Brannen Millwork. His desk overlooks the manufacturing floor at Brannen Millwork, and probably not coincidentally. It affords him a bird's-eye view of the company's two Routech Record CNC routers.
Until he found CADCode, "The software just wasn't there," he continues. "They had it for the cabinet industry, but it wouldn't work for us, where I could take what I already had going in spreadsheets and incorporate that, it just wasn't going to make sense," he says. Stewart says the CADCode software was the primary factor in the door manufacturer's decision to join the CNC revolution. "I went with CADCode because we were already...spreadsheet oriented, and we used our spreadsheets to quote parts lists," he explains.
Opening a customized spreadsheet in Microsoft Excel, "I can go over here and choose a product. "Say I need to build a panel door. In there I've got five panel, equal panel, four- and six-panel. And I put in the height and the width and then I can tell it how many panels wide, tall, and then my stiles, I've set them up as variables, top rail, bottom rail, lock rail, profiles," he continues, entering numbers into the spreadsheet denoting his choices.
Now I'm going to run it in CADCode," he says, with a couple more clicks. The spreadsheet contains macros that collects the data. "If I have 36 panel doors, all different sizes, it will just keep re-reading it with those variables and collect that all as one package. Then it will send it to CADCode, and it will process it."
Stewart demonstrates, and within two minutes he has programmed three frame-and-panel doors. A minute later, he has added an arch-top door with a glass insert to the package. Brannen Millwork purchased its first CNC router last April. So sold on the possibilities was Stewart, the company's production manager, that another was bought just a half-year later. "When I got into this, I didn't understand that really, what are you doing when you program a router? All you're looking for is a set of coordinates" he says.
"So, how do most people program a router? They draw [the job] to prove their coordinates, then they use those coordinates out of the drawing, and then they have to put it on the [router] table. Really, all [they] wanted was the coordinates, so why draw it?" he asks rhetorically. "It's a little bit daunting to begin with because when you have something so incredibly powerful, you've got to figure out how to use it. But once you get through that, you are only limited by your own intelligence," he says.
"Mouldings are about 20 to 25 percent of our sales," Stewart notes. "Exterior doors are about 60 percent, and windows, interior doors and miscellaneous work are the balance." Stewart notes that most of the company's entry units are made from "mahogany and its cousins." Brannen Millwork also produces doors in reclaimed and newly milled cypress, as well as heart pine, cherry, walnut, alder and maple, depending on customer needs. "We cater to egos," he says, then adds with a laugh, "Our customers want [their door] to look like a dining table – and then they get it to the site and treat it like a stack of two-by-fours." Fortunately, after finishing, the units can handle harsh treatment. The company holds more than 30 certifications attesting to its entry units' durability under extreme conditions.
Getting it right
Such highly specified, code-exceeding work is not inexpensive, and errors resulting from insufficient or incorrect information from buyers are a constant concern. If "football" is the one word that best explains the Statesboro area's growth, "staff" is the one word that which best explains Brannen Millwork's success. "We have good, knowledgeable people managing our shop labor. They have been with us many years," Stewart says. "They know what it takes to make great parts, and great parts make great units. The shortage of skilled employees has been an obstacle to overcome. We hope to use more technology in the future.
"Mollye Stewart, my wife and Edmund's sister, joined us in 1990," he adds. "She has been a major pillar in our company. She began as a bookkeeper and evolved into a salesperson. She has excellent people skills and knows how our product is made. Our product is very detail-oriented, and you must know construction and millwork manufacturing. Now she is active in both, and we can't do without her. "Our inside salespeople, they end up talking to our dealer customers, who are not always as knowledgeable as they ought to be," Stewart continues. The company sells wholesale, almost exclusively through lumber yards and building materials dealers.
ASN. © Custom Woodworking Business, 2005