Parts Label Printing
CADCode Systems pioneered the use of bar-coded parts labels and has led the industry in label design and ease of printing. With flexible printing options, it's simple to establish a one-to-one relationship between the part and the label, avoiding the mislabeling of parts.
Production information at-a-glance.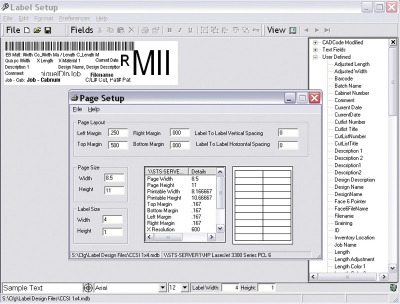 CADCode labels provide the data necessary to manage your parts at each stage of production. CADCode labels provide a nearly unlimited number of data fields, showing job, customer and product details.
Automate through barcodes.
The barcode can be tied to a number of events for fast, precise, and efficient parts processing, including automatically selecting and loading a program into the machining center, raising the guide pins, or initiating other operations.
Accurate part images.
Labels can display a scaled image of the part showing dimensions, edges to band, machining center orientation and machining operations. CADCode generates the image from the actual machine code for optimum accuracy and minimum file size.
Dust-free label application for nesting.

Nesting creates a challenge for labeling. If the parts aren't dust-free, there's a risk the labels won't stick. Pre-labeling a sheet could mean machining through and ruining the label. CADCode offers optional laser-guided label placement to enable pre-labeling a sheet prior to machining without the risk of destroying the label, cutting off-load time and increasing machine and operator productivity.
Print labels when and where you need them.
With CADCode labeling software, labels can be printed where it's most convenient for you – in the office and at the saw or router. With a label-capable CNC saw, the printing is automatic – as each part is cut, the saw generates a label print command. This works with both single and stacked parts. With manual saws and nested routers, the operator brings up a cutlist diagram of the sheet and selects the parts via a touchscreen or mouse, generating the label print command and indicating the part where the label should be attached.
Automatic and manual label printing - including panel pre-labeling with equipped routers and pre-and-post sawing labeling with certain pre-labeling equipped saws.

Job and manufacturing data available at-a-glance to production personnel

Positive identification and tracking of all parts, including new

2D

Datamatrix

barcodes for in-plant parts tracking (see label sheet sample below)
Part images that show all machining and

edgebanding

Nest images with indicator of where the specific part is located in the nest (see label sheet sample below)

Full user-defined customization of label size and content

Flexible printing options to print labels at the machine or in the office, whichever best meets your needs

Laser projection for label placement on nested patterns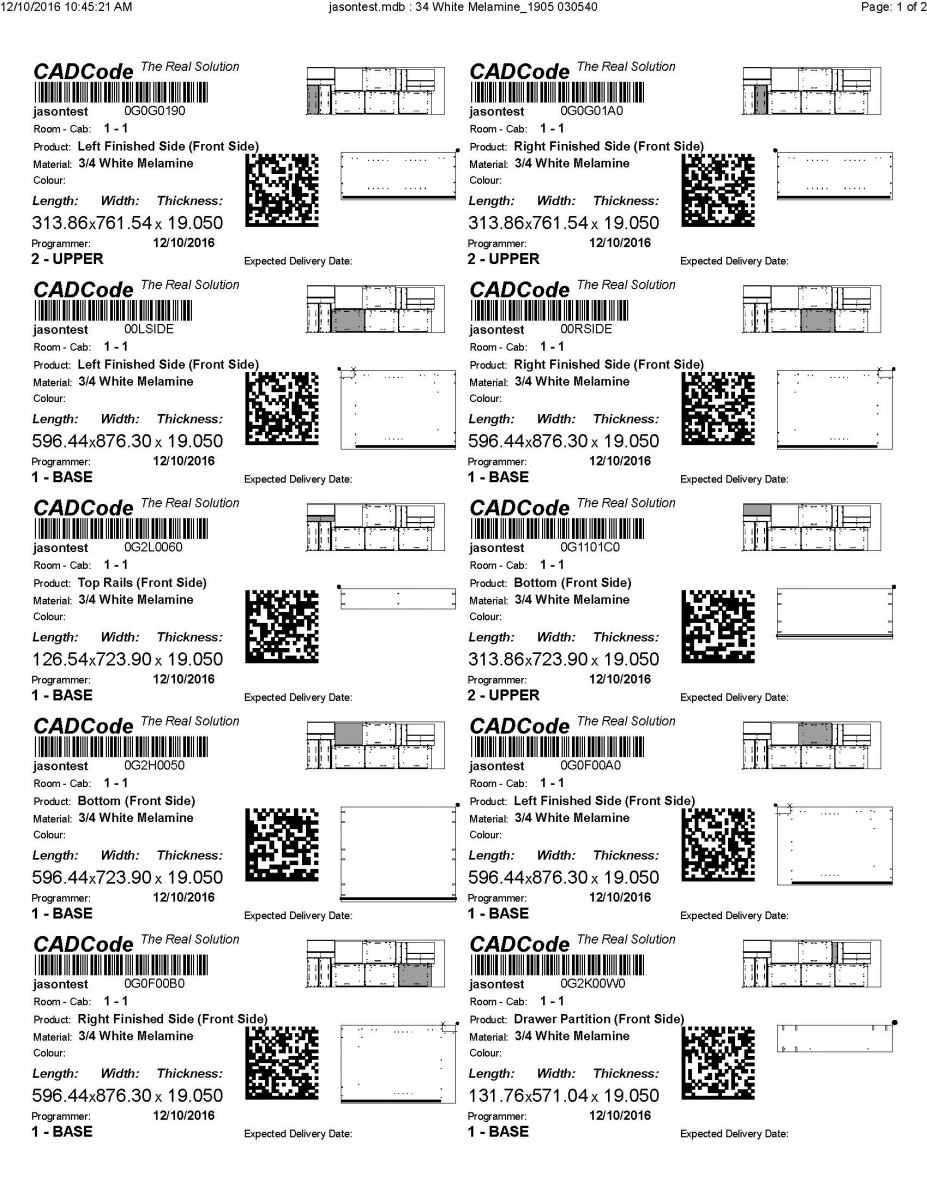 NestLabel™(for nesting routers)